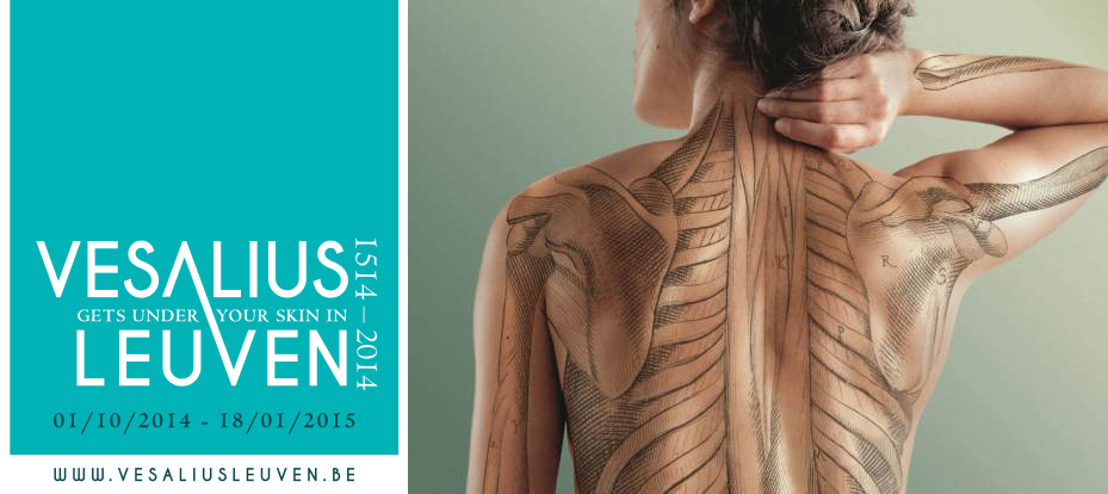 Vesalius will get under your skin in Leuven this autumn
INVITATION TO THE PRESS: 01/10/2014 - 10.30 am at M - Museum Leuven
Monday, September 29, 2014 — Andreas Vesalius is very much alive after 500 years. Who was Vesalius? A famous alumnus of the university of Leuven? The father of modern medicine? A prodigy in the field of anatomy? Is it true that he stole corpses at night? From October on he will get under your skin in Leuven, with exhibitions, dance, theatre, music, lectures and tours of the city. The full program will be presented to the press on October 1st .
The heart of the event is the exhibition 'Vesalius. Imagining the body' in M – Museum Leuven. This exhibition will give you an insight into the life of this legendary anatomist and scientist. It will give you the opportunity to learn everything about his life and work, to take a look at his masterpiece 'De Humani Corporis Fabrica' and to analyse how Vesalius changed the perception of the human body and how his anatomical knowledge lives on in art and science.
At the same time, the first solo exhibition in Belgium of contemporary artist Markus Schinwald (Salzburg, 1973) opens in M.
Programme
10.30 am
Reception
11.00 am
Speeches
Denise Vandevoort, alderwoman for culture of the city of Leuven
Vesalius gets under your skin in Leuven
Rik Torfs, rector of KU Leuven
Vesalius, alumnus of the university of Leuven
11.30 am
Visit to the exhibitions with curators Geert Vanpaemel and Eva Wittocx
11.30 pm
Presentation of the multimedia wall 'Landscape of body and life' by Uta-Maria Ohndorf, General Manager of Roche Diagnostics Belgium, in the presence of professor Jean-Jacques Cassiman
12.40 pm
Lunch
1.00 pm
Possibility for interviews with curator Geert Vanpaemel and contemporary artist Markus Schinwald
At 2.00 pm you can trace Vesalius's footsteps during a walk through the city. The tour starts at the reception desk of M - Museum Leuven.
Practical Information
Please confirm your presence, your choice of afternoon programme and any requests for interviews at hanna.vanzutphen@kunstleuven.be.
M-Museum Leuven
Leopold Vanderkelenstraat 28
3000 Leuven
An initiative of KU[N]ST Leuven vzw, a cooperation between the city of Leuven and KU Leuven
In cooperation with M – Museum Leuven
Cultural partners: 30CC, Academie van het Leives Dialect, Alfagen, Braakland/Zhebilding, fABULEUS, Farmaleuven, M- Museum Leuven, KU Leuven, Festival van Vlaanderen Vlaams Brabant, VIB, Frascati Symphonic, Histaruz, Lectio, LUCA School of Arts, SLAC/Academie Beeldende Kunst, STUK,
UZ Leuven, Vormingplus Oost-Brabant, Werktank and Toerisme Leuven.
Hanna van Zutphen Press officer, KU[N]ST Leuven
Veerle Ausloos Press officer, M - Museum Leuven